Soldiers now have OneStop™ for Army Housing
By David Crozier
---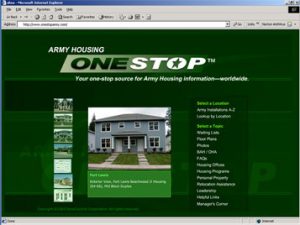 Operations tempo being what it is in today's Army, the last thing a Soldier needs to worry about is where to find information on housing for an upcoming reassignment move. Thanks to a new Web site launched by Army Housing, this worry is becoming a thing of the past.
The Department of the Army launched a new initiative, "Army Housing OneStop™," in March in an effort to provide Soldiers and their families a "world-class system" for obtaining information  about housing on the Internet. The idea of the new site is to incorporate the best features of PCS House Express with the other existing installation housing Web sites and touch-screen kiosk information.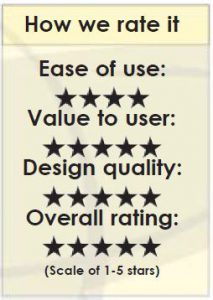 To help the Army take on this new effort, DynaTouch of San Antonio, Texas, was awarded the contract to gel this information into a user-friendly Web site that encompasses every Army installation offering housing. The result is a dynamic Web site that gives Soldiers and their families every tool they need to make the reassignment move an easy one. To get to Army Housing OneStop™ log on to https://www.onestoparmy.com. Immediately you come to a well-designed Web page that opens up the doors to a wealth of information. Here you can search Army installations alphabetically or by name; check on waiting lists for different ranks and housing sizes; look at floor plans; see photos of housing; check on Basic Housing Allowance and Overseas Housing Allowance rates; get answers to frequently asked questions; find housing offices along with contact information; learn about the Army's Housing Program; understand what you can and can't take with you; get relocation assistance information; and more.
The site also includes information about customs for overseas assignments; how to do a Do It Yourself move; weight allowances for household goods and privately owned vehicle shipments; tips for renting, buying or selling a home; and relocation assistance. A few clicks of the mouse will tell you that if you are moving to Turkey, all your major appliances, kitchenware, hobby equipment and the like must be entered on the customs inventory at origin. If you fail to provide an accurate inventory it can result in the Turkish government seizing and/or delaying your shipment.
Still overseas, in Korea and in many other foreign countries, Citizen Band radios and imported satellite dishes are prohibited. The rules for pets also differ from countryto country. In Korea pets are required to bekept in quarantine for 10 days, while in the United Kingdom it is a mandatory six-months quarantine and can cost pet owners as much as $600. Shipping weapons to an overseas assignment is another area where OneStop™ can provide answers. Forget about taking them to Italy at all and be prepared to bring only one smooth-bore single- or multibarrel shotgun to Turkey.
Going back to the housing, the wait times for post housing are just another click of the mouse away. Housing sizes are listed in an easy to understand format. Checking the wait times for a junior NCO or junior Enlisted at Fort Bragg, N.C, one will find it's three-months wait for a four-bedroom house with 94 Soldiers on the list; four-to-five months wait for a three bedroom with 486 Soldiers on the list; and five-to-six months wait for a two-bedroom with 973 Soldiers on the list. You can also check your status on the list if you have already signed up
for housing.
The site doesn't have any bells or whistles, but it does provide the kind of information Soldiers and their families need to make a successful move. I give it five stars and I am sure you will as well. If you're ready to make a move, this is one stop you shouldn't miss. Take a tour at https://www.onestoparmy.mil
https://news.dynatouch.com/wp-content/uploads/2017/09/ahos.png
500
830
Amanda Haller
https://news.dynatouch.com/wp-content/uploads/2021/05/header-logo-new.png
Amanda Haller
2004-01-01 09:00:39
2018-02-20 08:15:22
Soldiers now have OneStop™ for Army Housing