NYCHA Now Employee Voices: One-Stop Housing Authority Kiosks Put the Customer in Control
by Alexandra Henry, Project Manager, and Jenny Roman, Compliance Analyst, Management Services Department
---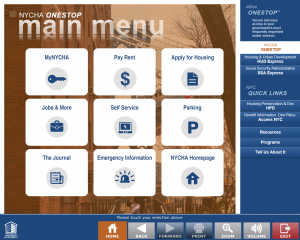 [New York City Housing Authority (NYCHA)]'s residents, Section 8 tenants and other customers now have more access to information and self-service features thanks to approximately 150 one-stop kiosks installed in property management offices (and soon to be installed in customer walk-in centers in Brooklyn and the Bronx).
The kiosks increase access to NYCHA's ever-growing list of online services by allowing residents to interact with NYCHA's Self-Service Portal. They can also connect customers to HUD and the Social Security Administration websites to perform functions related to these agencies.
Available weekdays from 8:30 a.m.-4:30 p.m., the kiosks enable residents, applicants, Section 8 voucher holders, Section 8 landlords and others to perform an impressive array of tasks. They can apply for a public housing apartment, pay rent, put in a work order, complete their annual recertification, submit a self-referral for REES programs, print out their social security benefit letter, apply for programs through HUD, and get screened for benefits through ACCESS NYC.
In addition to providing internet access, the kiosks are equipped with a printer and scanner to allow customers to submit their relevant documents to complete requests, such as online annual recertification, faster. This and other services are provided in a user-friendly digital environment with helpful icons that guide users through various tasks and staff available for assistance.
The kiosks also bring important benefits for staff while increasing the efficiency of business operations. By reducing the amount of time staff dedicate to basic functions such as providing information, processing, and completing repair requests, the kiosks make more time available for more productive meetings with residents. Providing residents with easy access through kiosks to information they need also increases transparency for both you and the customer!
New digital technology like the kiosks also reduces reliance on paper. This makes tasks more efficient and less time consuming for staff to complete. By learning new skills through technology, you can work smarter and not harder and have more time to focus on providing better service to customers.
This article was published in the NYCHA Now Newsletter, April 2017. Read the article here.
https://news.dynatouch.com/wp-content/uploads/2017/09/nycha.png
500
830
Amanda Haller
https://news.dynatouch.com/wp-content/uploads/2021/05/header-logo-new.png
Amanda Haller
2017-04-01 09:00:17
2021-09-03 11:45:33
NYCHA Now Employee Voices: One-Stop Housing Authority Kiosks Put the Customer in Control