Brooke Army Medical Center (BAMC) provides Interactive Directory Kiosks to the Army's largest medical institution
With ten separate organizations and more than 350 potential hospital destinations, the team at Brooke Army Medical Center (BAMC) realized they needed a wayfinding solution that could handle such a colossal undertaking.  More specifically, BAMC wanted a user-friendly touchscreen interaction with easy wheelchair access, and rugged durability to allow for 24/7 unattended operation at each of their main entry points.  The directory needed to provide hospital visitors and staff with dynamically generated maps and turn-by-turn directions, complete with a way for the maps and directions to be accessed on their smart phones.
Based on security requirements and the need for patient privacy, the solution could not depend on outside connectivity or support — it had to be able to integrate into the existing BAMC architecture and government-owned servers.  The software security features needed to allow the kiosks to be configured to prevent countless unauthorized operations.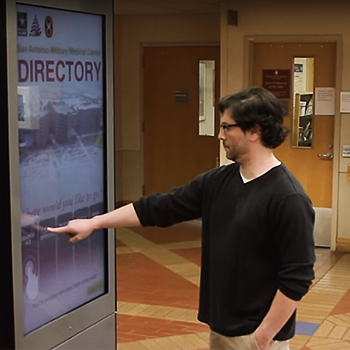 DynaTouch worked closely with BAMC to develop a solution that met their requirements exactly.  The services provided by DynaTouch included project management, consultation, content development, graphic design, and installation.  The hardware solution consisted of six upright ruggedized kiosks outfitted with 55" portrait displays with infrared touchscreens.  Locked inside the steel enclosures are desktop computers, pre-loaded with Windows 7 Pro and a lifetime TIPS Kiosk Management Software license.  TIPS software is a highly secure, 4th generation COTS product developed by DynaTouch, designed specifically to prevent unauthorized operations and allow for unattended use on a public-accessed kiosk.
Using BAMC photographs and logos, DynaTouch created a BAMC-branded interactive environment with welcoming screensavers, an intuitive main menu, and a comprehensive set of wayfinding maps with QR codes to generate mobile versions.  Upon touching the screen, kiosk users can quickly set their desired destination from database-driven selections.  Users can choose to search by A-Z, by category, or by keyword.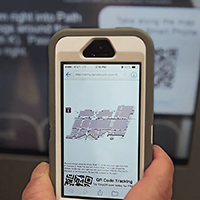 The large portrait display presents easy-to-read selections and allows a standing visitor to touch anywhere on the screen, while a seated visitor can utilize a scrolling selector tool at the bottom of the interface. Once a selection is made, the user is presented with a color-coded 3D map displaying a path from the 'You Are Here' location to the selected destination, as well as corresponding written directions.  The kiosk user can opt to scan the QR code for a mobile version of their map, or choose to print their map for pick up at the nearest location within the facility.  To solve BAMCs request for a staff-only view, the maps database was designed to include all destinations, but the standard view was filtered to display only visitor destinations.  For BAMC staff, a secret button was hidden in the display, allowing them to access and view the unfiltered, full list of destinations.
The DynaTouch solution also included a lifetime license to the TIPS Content Editing Software, which was loaded onto a designated BAMC server.  This software allows for seamless editing of all kiosk content by non-technical BAMC personnel.  Authorized personnel can access the editor via multiple security levels, and administrators can grant or restrict user access as needed.  CAC certificates can also be used to gain access, rather than usernames and passwords.  Upon successfully logging in, a BAMC-specific dashboard is displayed, providing access to the Screen Savers Editor, the Building Directory Editor, and the Users Editor.
The Screen Saver Editor allows BAMC personnel to upload new images, modify/control the display order, and enable/disable them on specific kiosks.  The Building Directory Editor allows BAMC personnel to add/delete destinations, select/change base maps, draw/modify paths with a few simple clicks, and add/revise written directions.  In addition, authorized personnel can copy data/routes from other records, modify line colors/thicknesses/icons, and push published changes to the companion website hosting the URLs for the QR Code-generated maps.
With this comprehensive solution, the team at BAMC has set the standard for visitor wayfinding.  The BAMC Interactive Directory Kiosk system is truly state of the art in helping people find their way across such an immense institution.
This project was featured in a video published on the BAMC YouTube channel:
https://news.dynatouch.com/wp-content/uploads/2018/04/BAMC-Wayfinding-Kiosk-header.png
500
830
TIPSSuperUser
https://news.dynatouch.com/wp-content/uploads/2021/05/header-logo-new.png
TIPSSuperUser
2018-04-12 08:33:12
2019-08-07 10:26:45
Brooke Army Medical Center (BAMC) provides Interactive Directory Kiosks to the Army's largest medical institution