Robins AFB Now Honoring Fallen Airmen with Unique Memorial Kiosk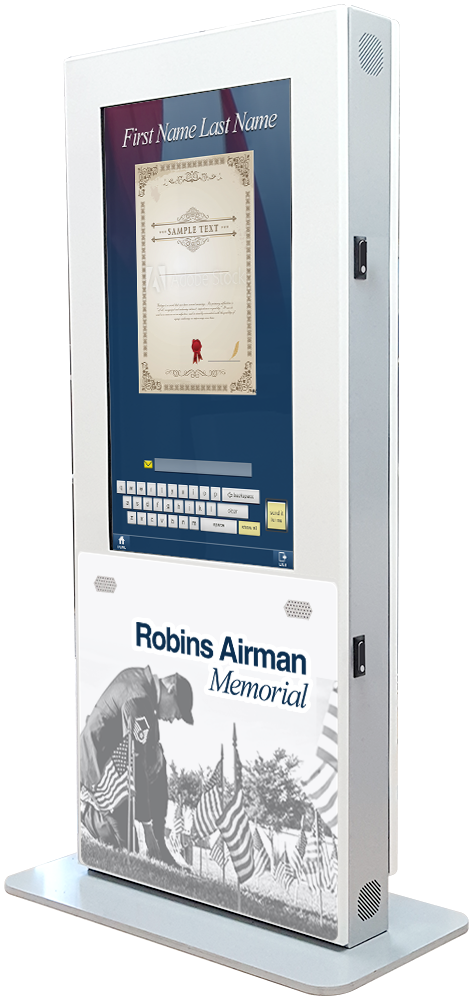 The Museum of Aviation in Warner Robins, Georgia has unveiled a new way of honoring the deceased at the annual Airman's Memorial Service.
In conjunction with Memorial Day, Robins AFB has held an annual ceremony since 1976, honoring both military and civilian employees from Robins AFB who have passed away. Previously, those honored were recognized on a memorial wall at Camellia Gardens which was located on base, so many family members didn't have access to see it. The service has since been moved to the publicly accessible Museum, and this year a new monument was unveiled, along with a new way of recognizing each honoree.
Now, instead of names on a wall, there is a new interactive kiosk in the museum which will allow visitors to commemorate their fallen loved ones, co-workers, and friends in a new, unique way. The dual-sided TIPS™ kiosk, supplied by DynaTouch, contains a directory list of more than 2,000 honorees from Robins Air Force Base who have passed away since 1977. Visitors can touch the screen to look up a name, and the kiosk presents a Certificate of Memoriam with the honorees name on it, signed by the Base Commander. This certificate can even be emailed from the kiosk to be later printed out as a keepsake. When the system is not in use, the names of all honorees continually scroll across the screen.
In addition to the fallen military heroes, over 50% of the names memorialized were civilians. Colonel Lyle Drew, commander of the 78th Air Base Wing, refers to them as the "mechanics and sheet metal workers, program managers and engineers, scientists, aviators and many more, all unsung heroes, who dedicated themselves to make Robins and the mission they support a global success."
https://news.dynatouch.com/wp-content/uploads/2019/06/robins-AFB-1.png
500
830
TIPSSuperUser
https://news.dynatouch.com/wp-content/uploads/2021/05/header-logo-new.png
TIPSSuperUser
2019-06-04 14:28:56
2019-10-16 11:40:46
Robins AFB Now Honoring Fallen Airmen with Unique Memorial Kiosk