Kiosks Help Sustain the VA's Vision that "No Veteran Ever Dies"
---
The VA National Cemetery Administration (NCA) ensures, in its statement of vision, that "No Veteran Ever Dies." With this vision in mind, National Cemeteries are maintained as national shrines to honor our nation's Veterans.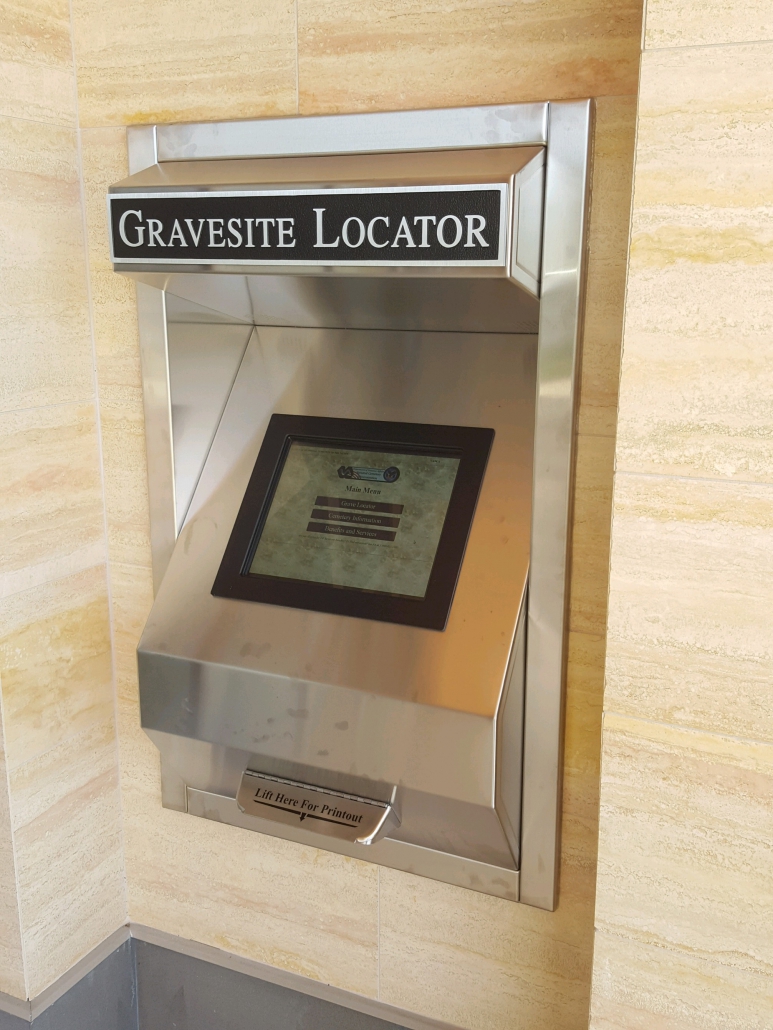 As part of its commitment to remain mission driven, results oriented, and customer focused, NCA implemented kiosk technology long ago as a means for visitors to lookup information about its gravesites. There is a wide range of visitors at each of the over 100 cemeteries managed by NCA. From family members of the Veterans, to research scholars, Civil War reenactors, and young students on field trips, there's a variety of people towards whom to cater the memorial experience. With three million veterans buried in NCA cemeteries, and millions of people visiting these cemeteries every year, this is no small feat.
DynaTouch joined NCA in its efforts to keep its vision in full swing, helping to improve the on-site cemetery experiences across the nation. DynaTouch currently maintains and supports over 100 NCA Gravesite Locator Kiosks around the nation, replacing old, end-of-life components, as well as installing brand new kiosks in new or refurbished cemeteries. The kiosks, designed to run 24/7 in mostly outdoor environments, allow visitors to find the exact location of a gravesite, provide them with a printable cemetery map, as well as printable displays about cemetery operating hours, upcoming events, grounds and floral policy, cemetery history, military funeral honors policy, burial eligibility information and NCA rules and regulations.
On January 1, 2020, DynaTouch will enter its third year of service to NCA.  "We have worked with the VA for more than 25 years, but the NCA Gravesite Locator Kiosk project may be our most meaningful VA project to date," states Paul Stahl, DynaTouch's Director of Government Sales.
In May 2019, NCA launched its digital platform, the Veterans Legacy Memorial (VLM). The VLM allows "friends, loved ones, researchers, and everyone in between … to view profiles and help add to existing information on the legacies left behind by our fallen veterans." DynaTouch hopes to integrate the VLM content with the NCA Gravesite Locator Kiosk content in the near future. Such advancements as interactive kiosks and the introduction of the VLM enhance NCA's vision, but the job doesn't stop there. NCA is committed to honoring our Veterans' service and sacrifice by continually pursuing opportunities that improve and maintain the prosperity of the memorial experience, and DynaTouch stands behind them 100 percent.
https://news.dynatouch.com/wp-content/uploads/2019/12/NCA.png
675
1200
TIPSSuperUser
https://news.dynatouch.com/wp-content/uploads/2021/05/header-logo-new.png
TIPSSuperUser
2019-12-13 17:24:15
2019-12-17 11:23:24
Kiosks Help Sustain the VA's Vision that "No Veteran Ever Dies"