City of Concord Enhances Self-Service Payments with BillPay Kiosk
Amidst the trials of coronavirus, the City of Concord was presented with the challenge of limiting face-to-face interaction while still providing customers a way to pay their bills. Because some customers are underbanked or not comfortable with making payments online, the City needed a unique solution to allow customers to make their payments in person, but in a safe and secure manner.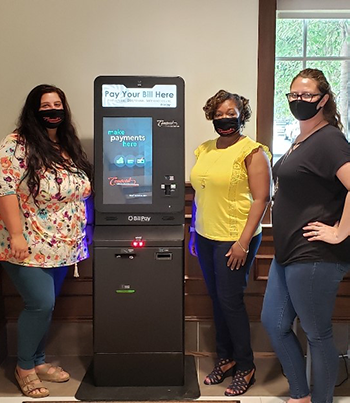 Today, in the utility office of the City of Concord, customers will be able to do just that. With the implementation of a Utility BillPay Kiosk from DynaTouch, customers can now pay their bills via cash, check, or credit card without ever coming in contact with customer service personnel.
DynaTouch provided the kiosk hardware and software—integrated seamlessly with the City's CIS and payment processor—as well as kiosk installation, on-site training, and ongoing customer support.
The self-service system has been a great success. City of Concord residents have become accustomed to paying their bills at the kiosk, and so far this year, the kiosk has already collected over half a million dollars in utility bill payments.
Concord Revenue Manager Rita Ellison said, "I have worked with Paul Lillie and the DynaTouch team through the integration and deployment process. I really appreciate their dedicated efforts in seeing the project through. Their determination was invaluable." In addition to the DynaTouch staff, NorthStar and Invoice Cloud have been key partners in integrating solutions to create a seamless system for processing payments and updating customer records.
In the future, the City of Concord is looking into the possibility of implementing additional BillPay Kiosks, including an outdoor model accessible 24/7 to better serve their customers' needs.
https://news.dynatouch.com/wp-content/uploads/2021/05/City-of-Concord-BillPay.png
675
1200
TIPSSuperUser
https://news.dynatouch.com/wp-content/uploads/2021/05/header-logo-new.png
TIPSSuperUser
2021-05-20 10:42:57
2023-08-08 13:44:44
City of Concord Enhances Self-Service Payments with BillPay Kiosk