VA Continues to Utilize TIPS Self-Help Workstations for MHV Enrollment in 60 Facilities across 10 States
For patients at every VA Medical Center, registering for My HealtheVet is a crucial step toward a healthy recovery. The My HealtheVet (MHV) patient portal allows veterans to request prescription refills, schedule appointments, securely message VA staff, and view their medical records online. Leadership in VISN 23, which consists of 60 different facilities across 8 VA Health Care Systems in 10 states, wanted to simplify the registration process and help encourage veterans to register at the point of service.
The VA determined that convertible laptops were the best solution for VISN 23. As needed, the MHV coordinators could convert the laptops to tablets and work one-on-one with patients to assist them in the registration process, or leave the devices tethered to desktops for veteran self-help.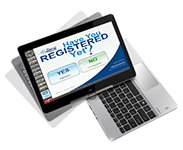 In 2015, the VA made an investment in 85 TIPS MHV Express™convertible laptops. Each device features an encrypted hard drive, anti-theft tracking for added security, VA-approved TIPS™ Kiosk Management Software, for cyber security and remote management, and a user-friendly interface designed specifically for veterans who are inexperienced with navigating on the web.
DynaTouch currently provides centrally-managed services for all VISN 23 laptops, including cellular broadband service, security scans, and updates to all operating system and application software. To determine the best cellular broadband service provider for each location, DynaTouch travelled to all 60 facilities to survey the site. Additionally, DynaTouch worked with MHV Coordinators to enhance the content modules, designed to walk veterans through the steps of registering with MHV, upgrading their account, and setting up secure messaging.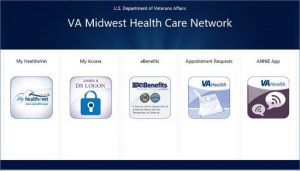 In 2017, the VA worked with DynaTouch to update the content and offer access to other important services for veterans. In addition to My HealtheVet Express, VISN 23 Coordinators can now easily introduce patients to My Access (to set up a secure login), eBenefits (to apply for benefits), and even show them how to download VA apps to their mobile devices, such as the VA Appointment Request app.
As of 2018, the VA has continued to renew their support contract with DynaTouch. The VISN 23 MHV Coordinator, said, "Good work, DynaTouch! Once again, your customer service is unparalleled."
https://news.dynatouch.com/wp-content/uploads/2018/02/VA-MyHealtheVet-kiosks.png
500
830
TIPSSuperUser
https://news.dynatouch.com/wp-content/uploads/2021/05/header-logo-new.png
TIPSSuperUser
2018-01-20 09:10:48
2018-02-20 10:22:40
VA Continues to Utilize TIPS Self-Help Workstations for MHV Enrollment in 60 Facilities across 10 States